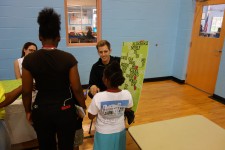 Narconon Suncoast joined with over 25 other non-profits and health providers at the 11th Annual Back to School Health and Wellness Event at the North Greenwood Aquatic Center in Clearwater this past week.
Clearwater, FL, August 18, 2016 (Newswire.com) - For more than a decade, the North Greenwood Community Coalition has organized this annual back-to-school event that has serviced over 4000 families and supplied nearly 10,000 backpacks filled with school supplies for high school, middle and elementary aged children.

This year Narconon Suncoast distributed drug prevention booklets as well as school supplies to local Clearwater, Florida families.  Besides Narconon Suncoast Drug Rehabilitation Center, there were over 25 health care providers and professionals on site at the North Greenwood Aquatic Center to perform blood pressure and weight screenings, eye exams and dental exams.  Over 700 people were serviced in less than 4 hours.
"Over 100 volunteers all contributed their time and efforts to make this year the best year so far.  The meals, backpacks and school supplies are an expression of the commitment our coalition and community has to these young people."  Said Sherry Van Hootegem, board member for the North Greenwood Neighborhood Association.    "Every year we work to include important community services like Narconon Suncoast, who play an active part in creating healthy drug-free lives with their drug prevention and rehabilitation program here at their newly opened center in Clearwater."
Event sponsors included the City of Clearwater, Clearwater Gas Services, City of Clearwater Solid Waste, City of Clearwater Police, Walmart, the Willa Carson Center, Morton Plant Mease, Turley Family Health Center, Achieve Health Center and the United Way.  
Narconon Suncoast's community programs include complimentary parent education seminars and weekly Living Sober meetings in Dunedin for those living with people in recovery or still suffering with an addiction. These meetings and seminars help reinforce the key factors to living a healthy, drug-free life. The Living Sober meetings also provide drug prevention information for families and coaching on how to talk to a loved one about an addiction treatment.  August's topic is "Helping vs. Enabling an Addict."  All are welcome to attend. To learn the schedule for these meetings, contact Narconon Suncoast. 
Source: Narconon Suncoast
Share: