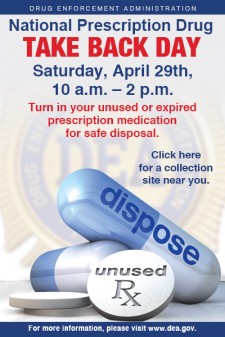 Narconon Suncoast is asking families to rid their homes of unwanted or old prescription medications this weekend
Clearwater, FL, April 27, 2017 (Newswire.com) - Saturday, April 29, from 10 a.m. to 2 p.m., the Pinellas County (Florida) Sheriff's Office and the Drug Enforcement Administration (DEA) will give the public an opportunity to prevent pill abuse and theft by ridding their homes of potentially dangerous expired, unused, and unwanted prescription drugs. Bring your pills for disposal to Countryside Mall at 27001 U.S. Hwy. 19 North, Clearwater, Florida. There are also drop-off sites at the Dunedin and Clearwater Police Stations.
This service is free and anonymous, and no questions are asked.
Unused prescription medication is one of the causes of the current opiate epidemic. Old unused prescription medications are an easy target for someone seeking drugs. Proper disposal of these medications is vital to prevention efforts.

Jason Good, Public Liaison
Last October, Americans turned over 730,000 pounds of prescription drugs at approximately 5,200 sites operated by the DEA and more than 4,000 of its state and local law enforcement partners. Overall, in its 12 previous Take Back events, DEA and its partners have taken in over 7.1 million pounds—more than 3,500 tons—of pills. This year's event marks the 13th opportunity in 7 years for Pinellas County residents to participate in the Take Back Day.
This initiative addresses a vital public safety and public health issue. Studies show young people who start using most often say their "first use" came from their own or someone else's medicine cabinet. Unused pills in homes are highly susceptible to diversion, misuse, and abuse. Rates of prescription drug abuse in the U.S. are alarmingly high, as are the number of accidental poisonings and overdoses due to these drugs. Due to environmental hazards created by flushing these drugs down the toilet or putting them in their trash, Americans are now advised to use the drop off events and drop-off boxes at local pharmacies to avoid community health hazards associated with the old disposal methods.
For more information about the prescription drug abuse treatment, visit www.Narconon-Suncoast.org. Information on disposal of prescription drugs outside of Pinellas County, Florida, or the April 29 Take Back Day event, can be found at DEA Diversion website or Narcononsuncoast.org.
Source: Narconon Suncoast
Share: