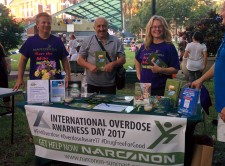 Recently, Narconon Suncoast participated in the International Overdose Awareness rally in St. Petersburg to help remember those lost to opiate overdoses and to raise awareness to the growing problem our country faces.
ST. PETERSBURG, Fla., September 4, 2017 (Newswire.com) - Drug prevention and effective rehabilitation were on everyone's mind as International Overdose Awareness Day closed with an inspirational local rally in St. Petersburg, Florida. The rally, which was presented by Recovery Epicenter, filled the lawn of Williams Park with family and friends who have been impacted by addiction. Narconon Suncoast was one of over 40 prevention and recovery organizations at the rally, lining the walkways of the park and calling for greater governmental support and access to effective rehabilitation, prevention, and awareness.
The "Fed UP!" organization's mission is to help raise local awareness of the opiate epidemic and encourage citizens to ask for an urgent and coordinated response from all levels of our government to help end the overdose crisis. Presenters at the rally highlighted the consequences of the opioid crisis, including soaring drug-related crimes, staggering increases in overdose-related hospital visits and EMS calls, infants born opioid-dependent and steadily rising numbers of those with hepatitis C and HIV.
The event culminated with a moving candlelight vigil for friends and family members who had lost someone to addiction. The park filled with light and song as the participants paid tribute to the lives of their deceased loved ones. One mother who came from Tarpon Springs, said "I was so fortunate to have found my son in time to revive him. I'm here to support others who were not so fortunate and to continue to raise awareness of signs of addiction and effective treatment models like Narconon!"
Community groups, county and state agencies and legislators from across Florida are working hard to bring this crisis under control through efforts to improve access to addiction treatment, improve prevention efforts and to raise overall awareness of the problem. Ultimately the responsibility falls back onto the individual and the community services available to help each addict. Community groups like Recovery Epicenter and local anti-drug coalitions are working side-by-side to help raise awareness and end this epidemic for good.
Narconon's drug prevention activities and youth drug awareness programs are offered each week in Pinellas, Pasco and Hillsborough Counties. Narconon Suncoast also offers complimentary drug tests and addiction screenings every Monday evening and are by appointment only. For more information, call 877-841-5509 or visit www.narconon-suncoast.org.
Source: Narconon Suncoast
Share: