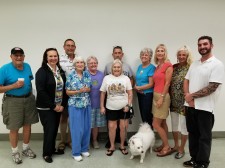 Narconon Suncoast attended the Gulfport, FL Neighborhood Watch group and educated them on the dangers of drug abuse and how to properly dispose of unused medications.
Gulfport, FL, October 25, 2017 (Newswire.com) - Narconon Suncoast's prevention specialists presented vital health and safety information to the members of the Gulfport Florida Neighborhood Watch Committee at their October meeting. Jason Good and Yvonne Rodgers from Narconon Suncoast educated the audience on prescription drugs and the most popular street drugs that are now responsible for the majority of crime that most neighborhoods in Pinellas County are experiencing.
"This month's crime report here in Gulfport demonstrates that most of the crimes are easy-access crimes of opportunity that the average addicted criminal is looking to steal items that they can easily convert into their next fix." Said Jason Good Director of Public Services at Narconon Suncoast in Clearwater. "When you see that the average prescription drug addict needs $500-1200 a week to support their habit, you can easily calculate how having just a couple active addicts in a neighborhood can lead to a lot of crime."
The prevention specialist covered how prescription addiction most often starts and progresses rapidly to use of cheaper street drugs like heroin and methamphetamine. They warned that people should keep their prescription medicines locked up out of easy access for a visiting addict or opportunist. You never know who may be interested in what you have in your medicine cabinet and the best way to keep the pills off the streets and into the hands of an unauthorized user is to keep them locked up.
Narconon and the Gulfport Sheriffs Office stressed the importance of cleaning out unused prescriptions and drop them off at the Sheriffs office. The Gulfport Police Department had a drop off container at the meeting and Officer Zach Mills explained how to properly use the drop off center at their office. Narconon guests also reminded the neighborhood watch audience to remove the prescription labels before disposing even empty bottles to avoid identity theft using the barcodes on the Rx bottles that contain personal health record information.
Narconon Suncoast is a non-profit drug and alcohol treatment program that has a 32-bed facility in Clearwater, Florida. It also provides drug prevention information, talks and complementary drug assessments to the community. For more information contact: (7272) 304-4176
Source: Narconon Suncoast
Share: