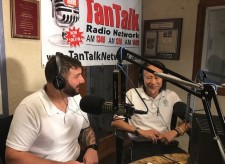 New forms of the dangerous opiate fentanyl are becoming resistant to the life saving drug Narcan.
Clearwater,Florida, May 29, 2017 (Newswire.com) - This Weekend Narconon Suncoast hit the Florida airwaves on popular local radio show "Talk of the Town" with a vital overdose prevention message on the latest opiates hitting America. A strain of Narcan-resistant Fentanyl, Acryl Fentanyl, has been found in Pennsylvania and has already caused numerous overdoses and deaths.
Public Affairs Director Jason Good said "This form of Fentanyl is the worst we've seen thus far in this epidemic. The worst part is the opiate overdose reversal drug, Narcan isn't working." Uninformed users are blindly using heroin, thinking that a reversal drug like Narcan could bring them back, but that hasn't been the case with Acryl Fentanyl. While Fentanyl actually has legitimate medicinal purposes, Acryl Fentanyl has no known use. Mr. Good was featured this weekend on the popular central Florida radio talk show, "Talk of the Town" on WTAN. His interview included spotting signs of opiate addiction, the dangers of Fentanyl and how to help get a loved one into effective addiction treatment.
This form of Fentanyl is the worst we've seen thus far in this epidemic. The worst part is the opiate overdose reversal drug, Narcan isn't working.

Jason Good, Public Affairs Director
Mr. Good described how addicts are unknowingly purchasing heroin on the streets, completely unaware of what's mixed in to it. Now, in Pennsylvania, people are dying from this new form of Fentanyl. DEA Special Agent In-Charge, David Battiste said, "If Acryl-fentanyl is introduced into the population, it can have devastating effects. You would have to reuse Narcan if you are revived from Narcan at all."
"The opiate epidemic is completely out-of-control," said Mr. Good. "Our society has reached an all-time low and I find it as my responsibility to educate the public on this growing crisis and hopefully I can save a few lives."
Narconon Suncoast urges families to share this message with anyone they might suspect is using opiates. Drug awareness and effective treatment information are key to ending drug abuse. More information on addiction treatment and prevention can be obtained by calling Narconon Suncoast at 877-841-5509
Source: Narconon Suncoast
Share: