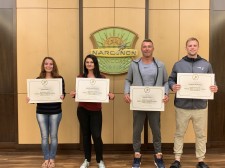 The most recent weekly graduation at Narconon Suncoast showcased five graduates who had escaped the grips of addiction and started the road toward their own drug-free lives. This was the largest-ever graduation held at the center.
CLEARWATER, Fla., April 8, 2019 (Newswire.com) - Narconon Suncoast Rehabilitation Center honored five former addicts who successfully completed their long-term residential treatment program Saturday evening. The weekly gathering included an audience of friends, family and community members who were amazed to hear how this holistic residential treatment program helped end long-term addictions to opiates, heroin, meth, alcohol and marijuana. Each life story shared described the similar cycle of addiction that changed from casual initial use and simple fun ways to solve a problem to a daily addiction that ran their lives into dark places. The evening highlighted various aspects of the Narconon program which is internationally renowned for helping people end their addictions.
"I wasted over six years of my life, lost two great jobs, two beautiful relationships and countless friends while I was addicted to alcohol, pot and cocaine," said Benjamin M. a 29-year-old graduate. "I tried many different things to get clean and could stay clean for a while, but when life would get hard, I'd always return to what I had relied on to make me feel better in the short-run. That cycle of rehab, recovery and relapse was just the way it was until I made it to Narconon. Now, I have learned a whole new way to live my life and tackle even the tough times without using drugs or alcohol. There was no quick fix for me; I have fixed myself."
The graduates mentioned how the holistic Narconon model helped them detox their bodies, improve cognitive abilities and learn how to confront difficult pasts and confidently face their drug-free futures. Similarly, most spoke of a newfound level of responsibility in taking care of themselves, families and friends and how they now knew they could be successful in their recovery.
Bill W., a guest who had completed the Narconon program in 1975, reminded the students and graduates that "Who you choose to have around you makes all the difference in having a sober and productive new life. Of all the life skills that I learned at Narconon, knowing the anti-social and social personalities has helped me surround myself with good people that build me up and share my life-long goals and sobriety."
"No one ever thinks that casual use will end up in a full-blown addiction that controls you," said Jason Good, director of intake at Narconon Suncoast. "Each addict or family member I speak with tells the same story of just using a substance to lessen the effects of a physical or emotional issue. Initially, the drugs or alcohol seem to help, but as the effect wears off and that substance becomes less effective with each subsequent use, you see use turn to abuse and finally to an uncontrollable addiction. The good news is when you properly treat both the physical addiction and the reasons the person started using, you get long-term stable recovery. Each week at Narconon Suncoast, we proudly help our students break free from that cycle of addiction and create amazing drug-free lives."
For more information about attending a Narconon graduation celebration, complimentary local addiction screenings or drug prevention information, please visit www.narconon-suncoast.org.
Source: Narconon Suncoast
Share: